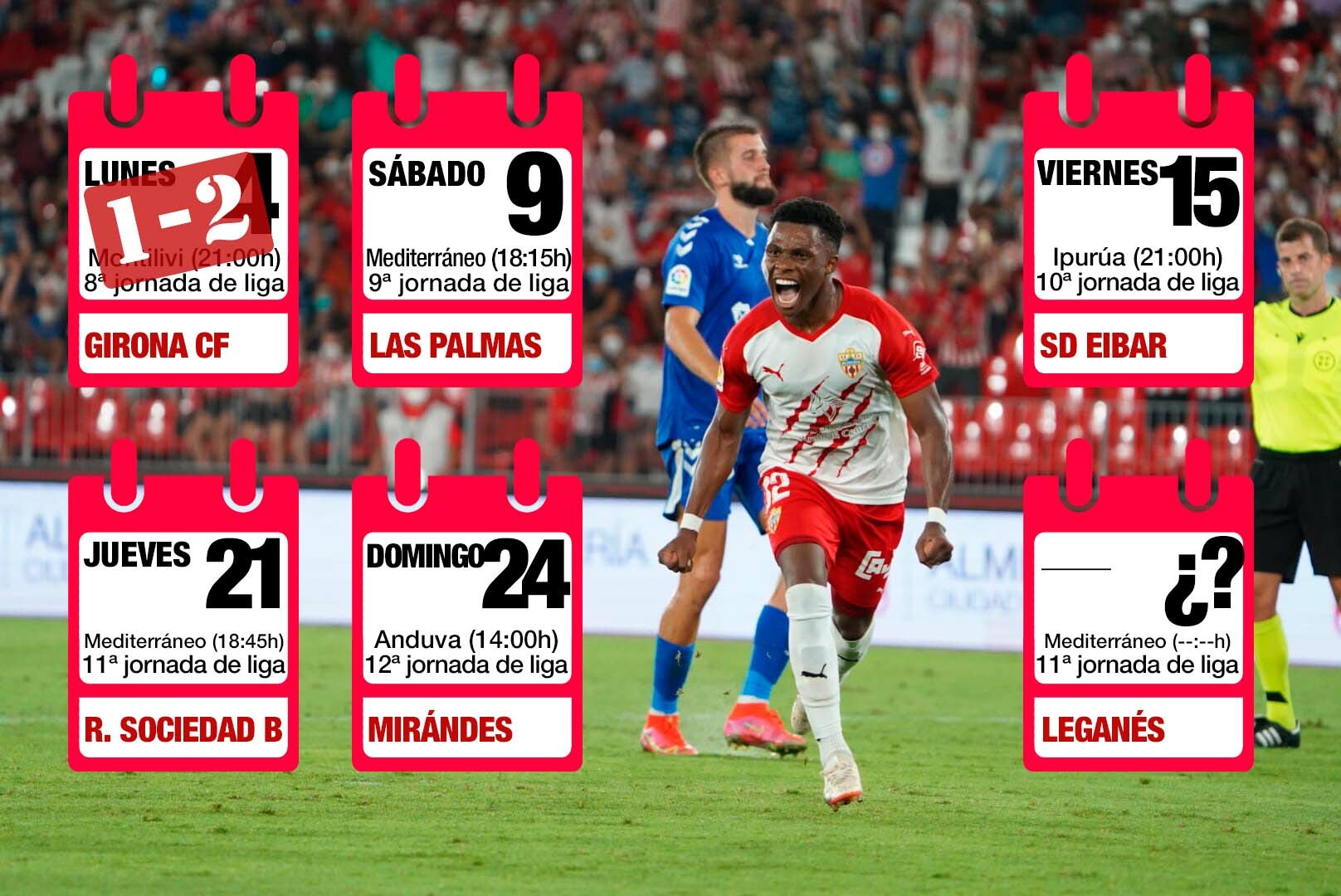 What a month of October with 6 games!
The first weekday game for UD Almeria will be played on Thursday, 21 October against Real Sociedad 'B'
Fixtures are coming thick and fast in October! UD Almeria will have to play a total of 6 LaLiga SmartBank matches. The Rojiblancos will play their first weekday game on Thursday, 21 October against Xabi Alonso's Real Sociedad 'B' side at the Juegos Mediterraneos Stadium. Before and after this fixture, there are long journeys to be made to compete in Eibar and Miranda de Ebro.
The fast-paced and intense tenth month of the year starts for the Indalicos on Monday, 5 October visiting Girona FC. The UD Almeria travelling squad returns on Tuesday and will start preparing themselves for the next home match on Saturday, 9 October against islanders UD Las Palmas.
Former Primera Division side SD Eibar will be hosting UD Almeria in Ipurúa on Friday, 15 October. Then, the first weekday match will be played at home against Real Sociedad 'B' on Thursday, 21 October. Rubi will have some time to conduct training sessions between one and another encounter, however it will not be the same with the next one because after playing on Thursday on home turf, UD Almería will be heading to Miranda de Ebro on Saturday to face Mirandés on Sunday, 24 October for a 2pm kick-off.
There will still be one more home match versus CD Leganes before the end of the month. The official date is Sunday, 31 October but LaLiga has not yet confirmed the day and the kick-off.