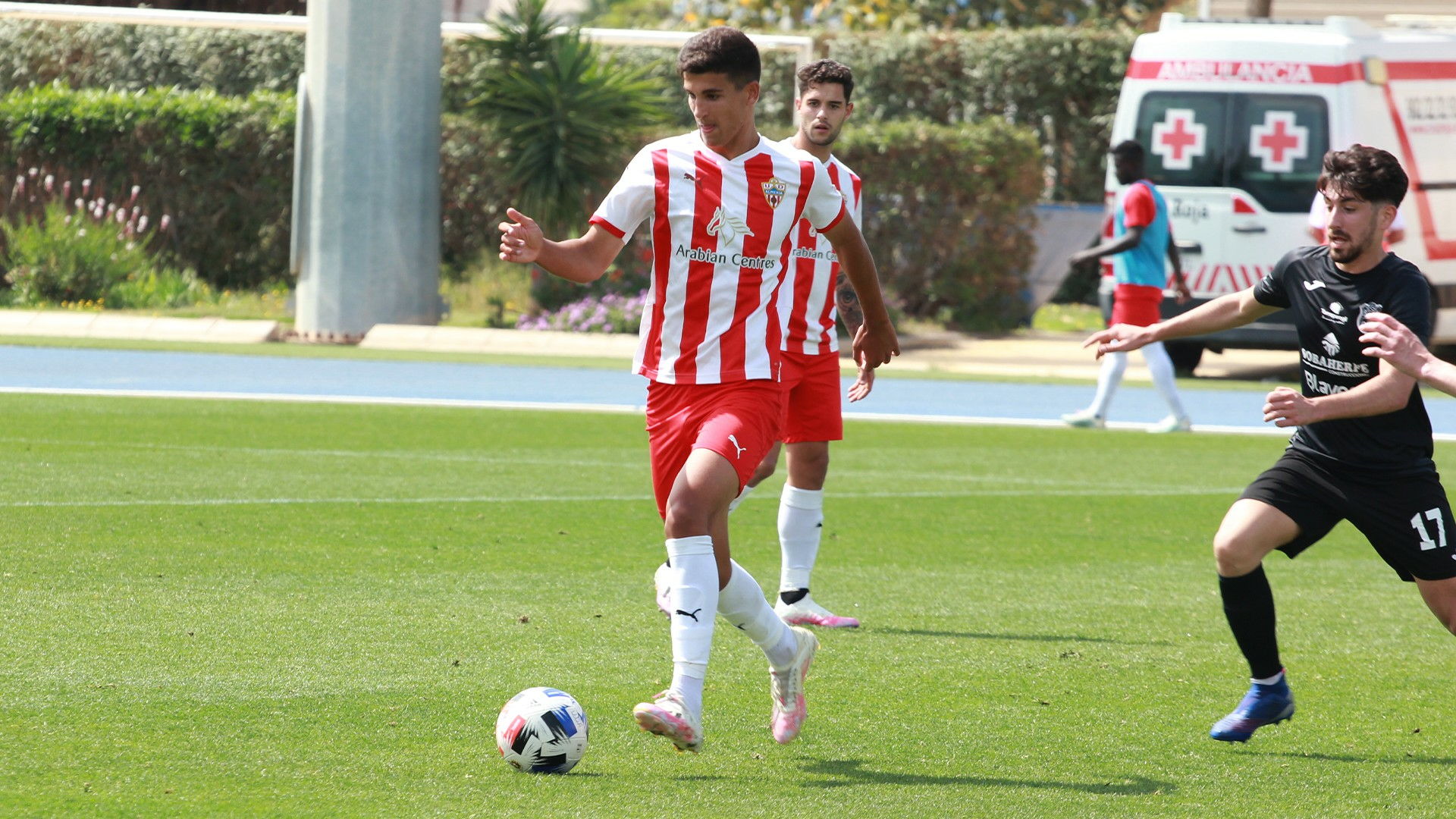 UD Almería wins appeal over sending-off of 'B' team player Javi Robles
The Committee found no evidence to support allegations of attack. The player is just a victim and not a perpetrator. Robles to sit out game in Antequera
The Competition and Discipline Judge of the Andalusian Football Federation for the fourth-tier Tercera Division has found no evidence to support allegations of attack. According to the RFAF Committee, Almeria 'B' player José Javier Robles Belmonte was just a victim and not a perpetrator during the Almeria 'B' vs Juventud Torremolinos CF quarter-final after watching the video evidence provided by the Rojiblancos Club. As a result, the straight red card has been rescinded and also the proposal of missing from 4 to 12 games, however it has been considered that the incident is worth of a yellow card as he pushed the opponent off in an attempt to defend himself.
The young midfielder will sit out the semi-final in Antequera following two yellow cards since he was awarded one before that game. If the Academy youth team happen to progress to the final, Javi Robles would be available for head coach Fernando Santos.
Almeria 'B' vs Antequera CF
During the play-offs for promotion to Segunda Division RFEF, the UD Almería 'B' team will be playing the semi-final at the home of the rivals, El Maulí Stadium, on Sunday, 30 May (kick-off 7:00 p.m. CEST). On this occasion, the Indálicos will play as visitors because they were worse ranked in the previous phase and therefore, the boys are forced to win either during the 90 minutes or overtime. In the event of a tie, the hosts would book their ticket for the final while Almeria 'B' promotion hopes will be wrecked.
The other semi-final will be played between Torredonjimeno and Atlético Malagueño. If Almeria 'B' manage to qualify, the Rojiblancos would take on the Torreño side away from home or will host the Málaga CF second-team. It will depend on who wins the match.