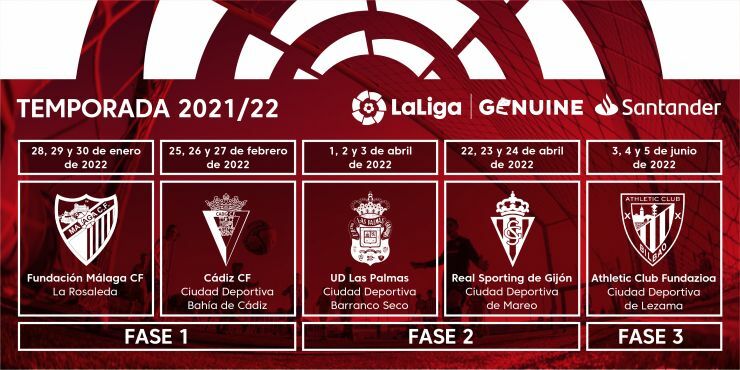 UD Almería Genuine to play at La Rosaleda in February
The Spanish cities of Malaga, Cádiz, Las Palmas de Gran Canaria, Gijón and Bilbao host the new 2021/2022 season
The sporting values ​​fostered by LaLiga Genuine Santander are on the horizon again. The LaLiga Foundation has announced the stadiums of the tournament including La Rosaleda Stadium, where the Málaga CF first team play their matches and where the UD Almería Genuine will also be present next year. In addition to the neighbouring city of Malaga, Cádiz, Las Palmas de Gran Canaria, Gijón and Bilbao will also be hosts with a total of three phases in which more than 1,000 people from the 42 participating clubs will meet.
The first phase will divide the participants into two different venues. To start with, Málaga CF Foundation will be hosting hosting UD Almeria Genuine and the rest of the participating teams at La Rosaleda on 28/29/30 February 2022 on the occasion of the stadium's 80th anniversary. The next Andalusian Club to play host on 25/26/27 February 2022 at the Ciudad Deportiva Bahía de Cádiz will be Cadiz FC.
On the other hand, the hosts of the second phase are as follows: UD Las Palmas on 1/2/3 April 2022 at the Barranco Seco Sports Complex and Real Sporting de Gijón, on 22/23/24 April 2022 at the Ciudad Deportiva del Mareo (Sports Complex). Half of the LaLiga Genuine Santander teams will also be distributed in each of the cities.
Then, Athletic Club Bilbao will be welcoming all the participating teams on 3/4/5 June 2022 at the Lezama Sports Complex for the Grand Finale.
After the spectacular 2019/2020 season final experienced in Tarragona a few weeks ago, the competition promoted by the LaLiga Foundation is now ready to see these teams of excited, talented players getting together again hoping to lift the sporting and Fair Play trophies.