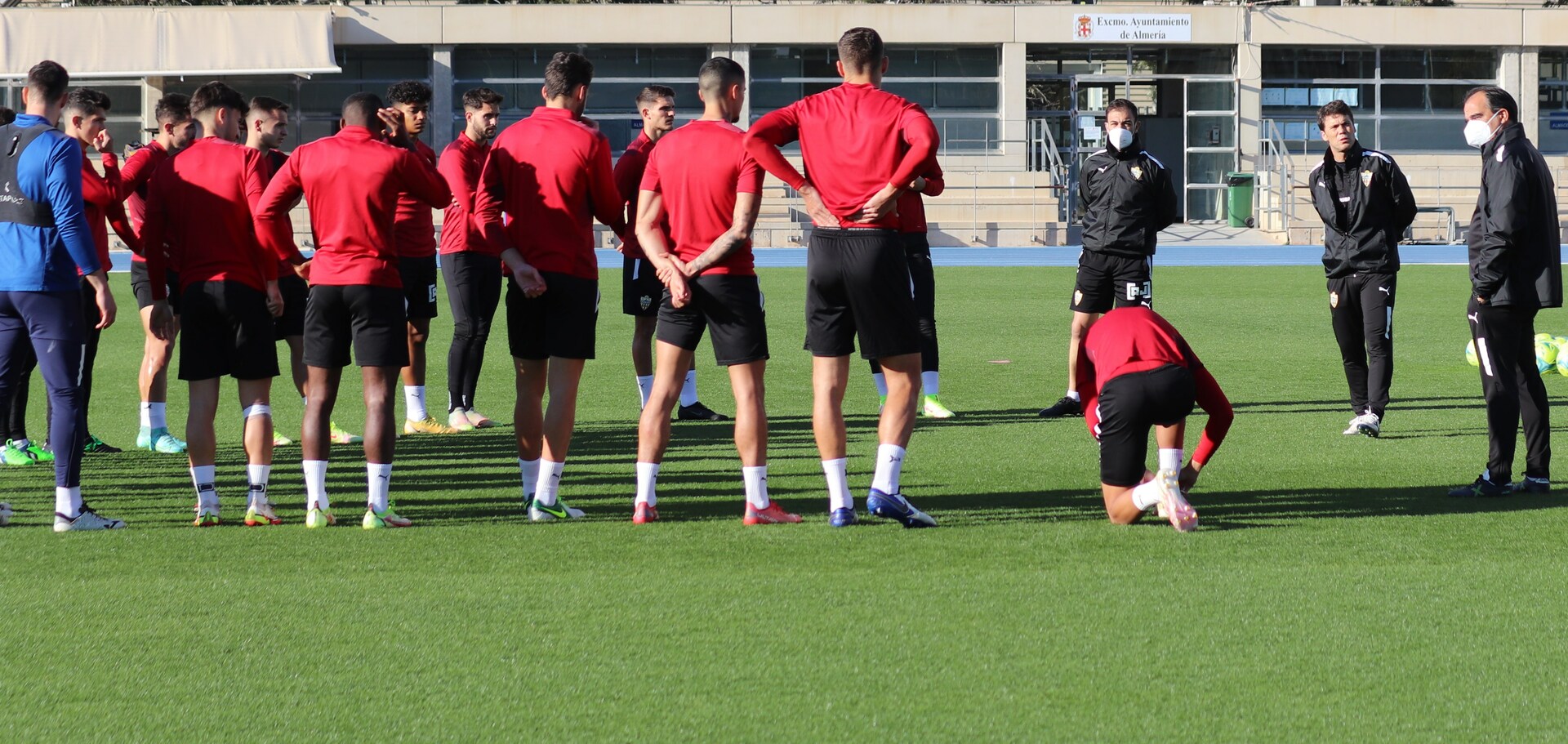 Portillo rejoins squad while Villar and Arnau exercise on the sidelines
The UD Almería players get back into training in a Blank Matchweek due to the Spanish Cup
UD Almería got back into training after Tuesday off. Three players have been spotted in training this Wednesday morning: Portillo, who missed the game against UD Las Palmas, as well as Juan Villar and Arnau Puigmal, who were exercising on the sidelines. This week there will be no LaLiga fixtures on Saturday and Sunday as the Copa del Rey tournament is taking place this weekend. The Rojiblancos will perform some training sessions focused on trying to improve their match fitness and get back in shape to return to action on Wednesday, 19 January when CD Lugo will be hosting the Andalusians for a postponed game.
Portillo has exercised normally, while Juan Villar and Arnau Puigmal are making progress in their recovery processes from their respective injuries, although it is still too early to know whether or not they will be available for the next league meeting in Galicia. Meanwhile, Makaridze, Carriço, Lazo and Dyego Sousa are working along with the physiotherapists of the Club's medical staff.
This Wednesday's practice was divided into physical fitness and tactical drills including penalty kicks... head coach Rubi supervised Ramazani's performance as the Belgian practised individual plays against the goalkeeper in order to improve his finishing skills.
This Thursday the rojiblancos will return to training in the Annex, for Friday and Saturday at the Stadium of the Mediterranean Games. On Sunday there will be rest, and on Monday back to work thinking about Lugo (Wednesday, January 19)… without forgetting that on Monday 24th Eibar visits the Mediterranean Games Stadium.