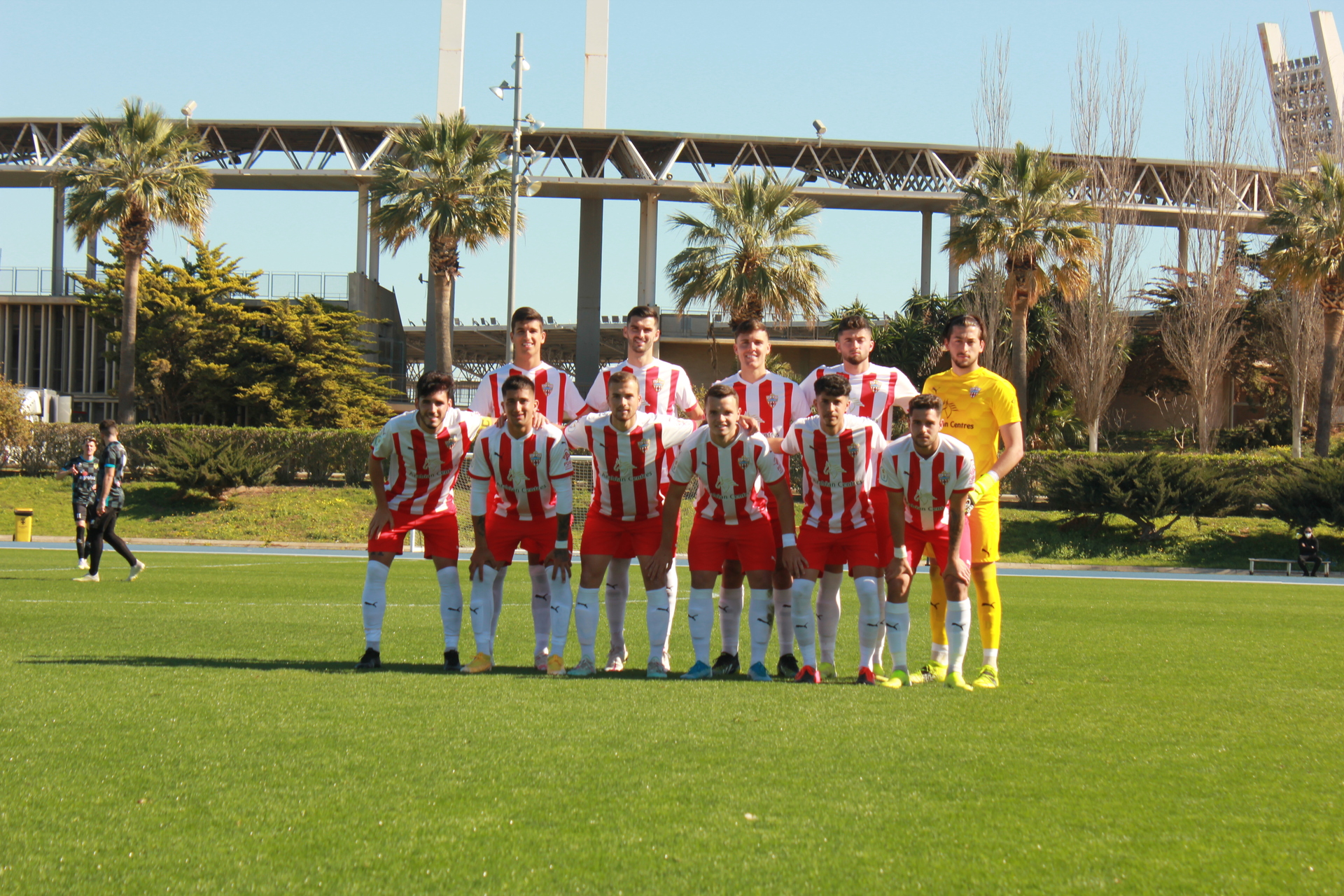 3-3: Almeria 'B' miss a great opportunity to reach top positions
The youngsters squandered many chances and end up drawing with direct rivals Huétor Tájar. Escobar debuted scoring a brace
The UD Almería 'B' team missed a great opportunity to reach the top of the table after a three-all draw with Huétor Tájar, despite being in the lead 3-1 during the final stretch. The Rojiblancos were able to equalise after Fermin's opener and extended their lead courtesy of newcomer Jordi Escobar. However, the visitors were able to take advantage of the Academy players' errors to get a share of the points with 10 minutes to go.
The game did not start well for Almeria 'B', since Esteban beat Lluís Tarrés after taking a free-kick on 2 minutes. Fernando Santos changed formation from a 4-4-2 to 4-3-3. It was then when the Academy youth team became the best version of themselves snatching the equaliser. Fermín converted a penalty to make it 1-1 as keeper Fidel was brought down.
The UD Almería second team exploited half-spaces and approached the opponents' goal. Robles crossed in and Jordi Escobar put his name onto the scoresheet to break the deadlock (2-1). The Almeria hopefuls wanted more action while Huétor Tájar had no choice but to opt for a deep defending. Jordi Escobar got off the mark slotting home the third (3-1).
With 70 minutes on the clock, Huétor Tájar were awarded a dubious penalty by the man in black. Lluís Tarrés conceded a goal at the hands of Esteban (3-2).
That was not the end. Esteban slammed in the third to add a hat-trick to his name. There was no time for more. UD Almería 'B' missed a great opportunity to place themselves at the top of the table. At the same time, Huétor Tájar have a better goal average considering their 1-0 win over the Rojiblancos in the first half of the competition.
Match facts:
UD Almería 'B': Lluís Tarrés; Aitor Puñal, Manu, Carvalho, Fermín; Tomás, Robles, Olivera, Siles, Raúl Caballero and Jordi Escobar.
CD Huétor Tájar: Fidel; Raúl, Quevedo, David (Mocho, 62'), Alberto, Esteban, Mario (Carrillo, 52'), Joaquín (Casado, 65'), Andoni, Juanje (Alonso, 67') and Castillo (Alonso, 67').
Goals: 0-1, 2:' Esteban. 1-1, 23': Fermín (penalty). 2-1, 28': Jordi Escobar. 3-1, 39': Jordi Escobar. 3-2, 71': Esteban (penalty). 3-3, 80': Esteban.
Referee: Morad El Ouazghari, from Melilla. He booked Robles and Jordi Escobar from UD Almería 'B', as well as Joaquín, from Huétor Tájar.
Observations: Matchday 16. Group IX 'A'. Fourth tier Tercera Division. The game was played behind closed doors at the Anexo pitch next to the Juegos Mediterraneos Stadium.