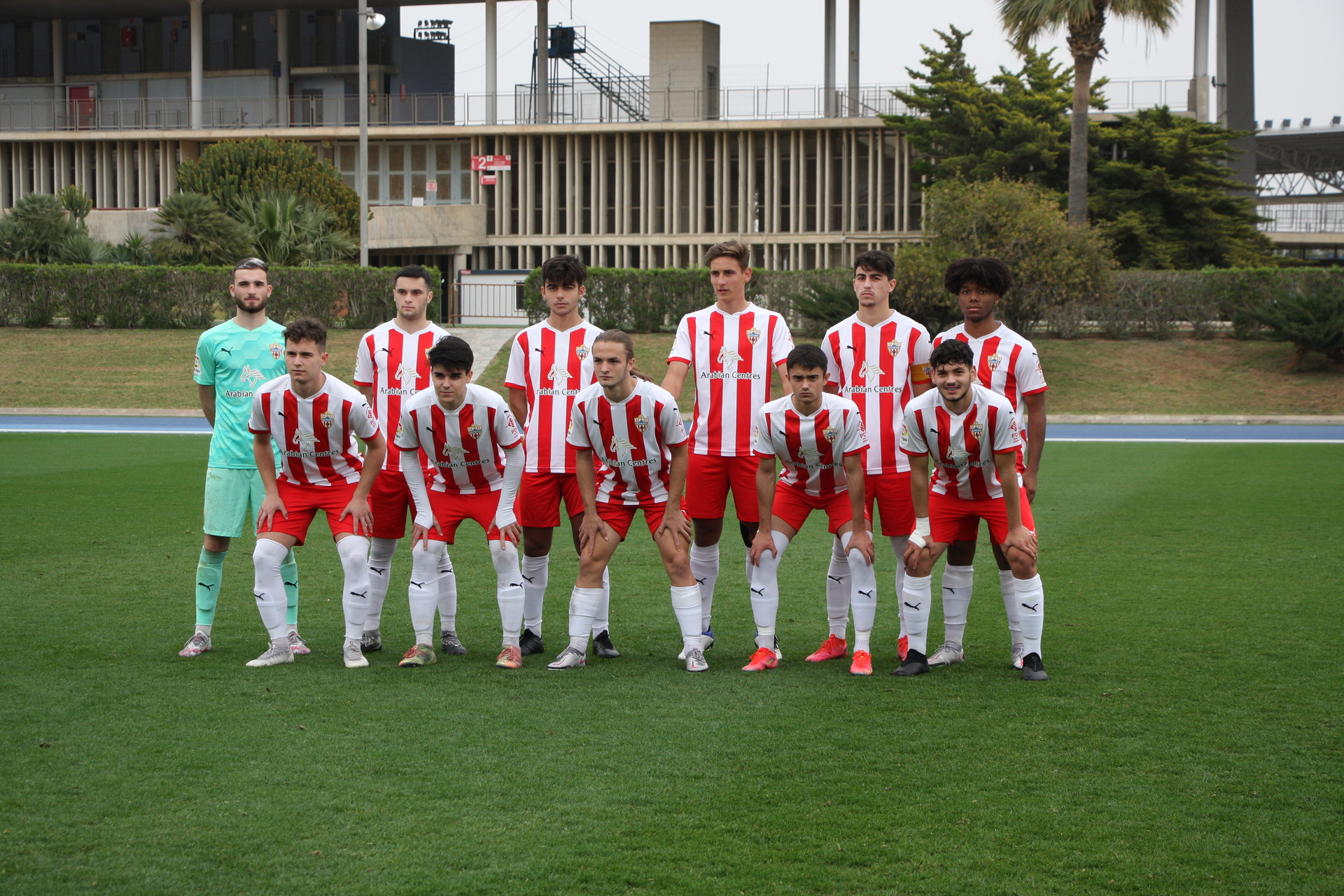 3-1: Vital victory for Almeria U19s 'A' against Dos Hermanas San Andrés
The rest of the Academy sides return to competition over the long weekend due to Andalusia's Day with a double gameweek
The UD Almeria Under-19s 'A' achieved a vital victory at the Anexo pitch next to the Juegos Mediterraneos Stadium in view of their aspirations to participate in the second half of the tournament facing the top-five teams, instead of having to play the extension of the championship against those sides who avoid dropping to the Liga Nacional.
The Almeria's teenagers grabbed all three points in a match against Dos Hermanas San Andrés that was tightly-contested in the first half and in which the Rojiblancos showed their great quality to seal victory in the second period.
Cato put the Academy team ahead after 30 minutes before the visitors drew level just before half-time. Shortly after the restart, Adri Nagera put his team ahead again on 52 minutes. The same boy slammed in the third to make it 3-2 with ten minutes to go.
In this way, UD Almería Under-19s 'A' occupy the fifth position within group IV 'A' competing in the Division de Honor Juvenil league. The young Rojiblancos are taking on sixth-placed Vázquez Cultural next Wednesday. It will undeniably be a crunch game for future interests.
With regard to the rest of the Academy teams, from Almeria Under-19s 'B' to the Under-12s, will get back in the thick of league action over the long weekend because of Andalusia's Day with a double gameweek ahead. The schedules are yet TBC, the Rojiblancos products return to the pitches playing next Saturday and the following Monday, considering that the ever-important cumulative incidence rate of Covid-19 has now dropped in the province of Almeria and the region of Andalusia.
Almeria U19s 'A' match facts:
UD Almería Under19s 'A': Dela; Jorge, Mario Mañas, Iván Ferrer, Cato (Oyonarte, 74'), Andrei (Marco, 74'), Álex Domingo (Abel Mellado, 56'), Adri, Mabika (Álvaro García, 68'), Edu Plá and Soto (Moha, 56').
Dos Hermanas San Andrés UD: Yeray; Pablo, Bernabé, Lucas, Alberto (Marco, 70'), Juan (Felipe, 65'), Alejando (Jesús Muñoz, 46'), Lovric (James Anthony, 70), Moreno, Pablo Alberto (Lucas Marcelo, 80') and Antonio.
Goals: 1-0, 30': Cato. 1-1, 44': Alberto. 2-1, 52': Adri. 3-1, 78': Adri.
Referee: Fernández Cintas, from the Almeria Referees School. There were no bookings.
Observations: Matchday 20. Group IV 'A'. First half of the Division de Honor Juvenil league. The game was played behind closed doors at the Anexo ground next to the Juegos Mediterraneos Stadium.