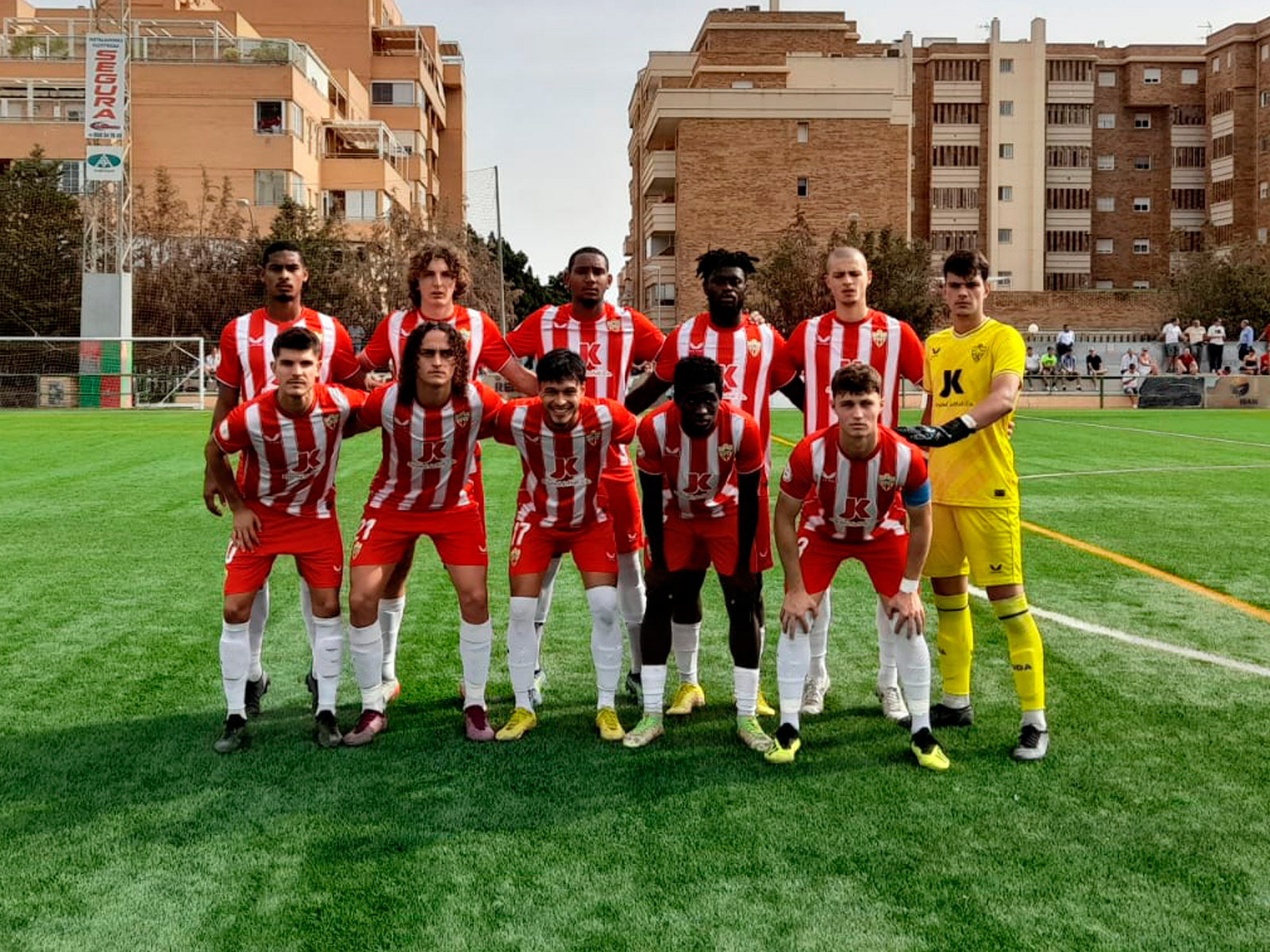 3-0: Third back-to-back victory for UD Almería 'B'
The UDA Academy Rojiblancos thrashed Málaga City with goals from Cuenca, Rafa Núñez and Marciano
UD Almería 'B' achieved their third back-to-back victory in the league by thrashing Málaga City 3-0 at the Tito Pedro facilities with goals from Cuenca, Rafa Núñez and Marciano. The game was put on track very soon by the youthful Rojiblancos, and in the first corner-kick taken by the hosts, they knew how to take advantage of it to get ahead on the scoreboard. UD Almería 'B' David Cuenca netted a header inside 5 minutes.
Óscar Fernández's boys struck first when almost the spectators had not yet sat down in their seats. From then on, the entire first half was bossed by the hosts, Málaga City barely got past midfield in these opening 45 minutes. The Indalicos gained possession but lacked some attacking skills to have increased the score before the interval. Lokosa missed a one-on-one solo play against the Málaga City goalkeeper and David Cuenca headed another ball after a corner-kick but it went just outside the sticks.
After the break, Málaga City walked out onto the pitch very active and regained possession of the ball to set up chances until in a well-crafted move. Rafa Núñez made it two-nil on the scoreboard by shooting with his right foot and crossing into the area.
The home team once again put in a commanding display under the watchful eyes of senior players Samú Costa, Ramazani and Joao Gonçalves, who watched the entire second half at the Tito Pedro ground like just one more UD Almeria fan.
In the final stretch of the match, Bian, Andrei, Longonda, Hugo and Junior came on. When the rivals looked exhausted and committed, UD Almería 'B' killed the game, if it wasn't already done through a great finish by Marciano thanks to peer Avelino who assisted the Guinean inside the area.
Match Information:
UD Almeria 'B': Obon; Cuenca (Junior, 90'), Wellington, Carlao, Álex Mendes; Sala, Gilbert, Avelino (Andrei, 79'); Núñez (Hugo Neves, 83'), Lokosa (Longonda, 77') and Marciano (Bian, 88').
FC Málaga City: Fúnez, Hugo, Antonio Márquez (Cristian, 74'), Ousmane (Matteus da Silva, 64'), Víctor, Sergio Cuesta (Tobías, 74'), Antelo, Alberto Cuesta, Pape Gasama, Pablo Maldonado (Juan Aroca, 74 ) and Arreola.
Goals: 1-0 Cuenca (5'). 2-0 Rafa Núñez (68') Marciano 3-0 (76').
Referee: Carlos Fernández del Moral, Jesús María García Velasco and José Rodríguez López.
Observations: Matchday 8. Group IX of the Tercera Division RFEF, played at the 'Tito Pedro' field.