1-2: It could not have come at a more opportune moment!
Luis Suarez's sublime brace secures UD Almería's first away victory of the season as they leapfrog direct rivals Getafe CF to take a giant stride to LaLiga Santander safety
UD Almería clinched their first away victory of the season at last! Although this has taken a long time, it could not have come at a more opportune moment since not only have they leapfrogged direct rivals Getafe CF but also have a better goal difference now. The Rojiblancos have taken a giant stride to LaLiga Santander safety thanks to a spirited performance even though there was growing uncertainty because UD Almería struggled to extend their advantage over a home team that had been reduced to 10 men and trailing  0-2 just before the break. 
There were some changes to the starting line-up that lost to Athletic Club de Bilbao last Saturday. Pozo started on the right flank, Chumi replaced suspended Rodrigo Ely while co-captain César de la Hoz returned to the midfield to accompany Robertone and Melero; Embarba was handed back a spot on the left wing. Luis Suárez played as No. 9 setting the tone of the attacking play and last but not least, Baptistão operated to his right.
Head coach Rubi said in the pre-Getafe press conference that his side knew what they had to do to try to overcome Getafe CF and that they were highly motivated and confident in themselves. UD Almeria proved their might away from home in a highly competitive first half with total dedication, deep concentration and grit.
Although the Azulon outfit walked out of the tunnel pressing high, the Rojiblancos increasingly pegged them back as they pushed for the opener that was scored from inside the box by Luis Suárez with a sensational left-footed shot on 7 minutes (0-1). 
With 40 minutes on the clock, Embarba narrowly missed when finishing off as centre-forward, a position shared with Luis Suárez at times. Djene knocked down the Colombian when he was facing goalie David Soria in a counter-attack so the referee sent the Togolese off. The Azulones went down to 10 men on the pitch. Embarba had a go again after the foul. A goal proved the difference between the sides at half-time (0-1).
The second half began with UD Almeria camped in the hosts' half. The lead cemented the Rojiblancos' grip on the game. As the visitors were taking advantage of the free spaces and their speed, Embarba saw his effort blocked thirty seconds after the restart. Next, Baptistão wasted a clear sight of goal within 50 minutes. Finally, Luis Suárez made no mistake in doubling the Indalicos lead (0-2) by picking up a cross from Alex Centelles inside the box. Shortly after, the match official did not award a penalty for a clear handball by Getafe CF defender 64 minutes in. Fernando had also made an impressive one-handed save a few minutes before.
UD Almeria kept their foot on the gas, however in the 70th minute, Borja Mayoral pulled one back as he pounced on a loose pass. From then on, the ball pinged from one side to the other as the Azulones moved up a gear. Baptistão, Suárez and Ramazani rued missed chances in the dying embers with keeper David Soria being the one to blame thanks to his powerful presence between the sticks to prevent UD Almería from thrashing them.
Match facts:
Getafe CF: David Soria, Damián (Iglesias, 46'), Djene, Domingos Duarte, Omar Alderete, Portu, Maksimovic (Latasa, 65'), Luis Milla (Gonzalo Villar, 42'), Munir (Aleñá, 65'), Borja Mayoral and Enes Unal.
UD Almería: Fernando, Pozo (Kaiky, 81'), Chumi, Babic, Alex Centelles, César de la Hoz, Robertone (Samú Costa, 86'), Melero (Eguaras, 72'), Baptistão (Ramazani, 81') , Luis Suárez and Embarba (Portillo, 72').
Goals: 0-1 (7)'. Luis Suárez, inside the area, finishes off a well-crafted play with a sensational goal. UD Almería. 0-2 (58'). Cross delivered by Centelles and Luis Suárez, from the penalty spot, leaped beyond his marker and finished off into the back of the net. 1-2 (70'). Borja Mayoral after a superb assist from the left wing at the hands of Portu.
Referee: Javier Alberola Rojas, from the Castilla La Mancha Referees Association. He sent off Djene, from Getafe CF, with a straight red card in the 45' + 2 after hacking down Luis Suárez when he was one-on-one with the goalie. He also booked hosts Alderete and Iglesias as well as visitors Melero and Babic. 
Attendance: 10,200 spectators with the presence of UD Almeria supporters in the stands.
Observations: Matchday 31. Game played at the Coliseum Alfonso Pérez Stadium in Getafe (Madrid).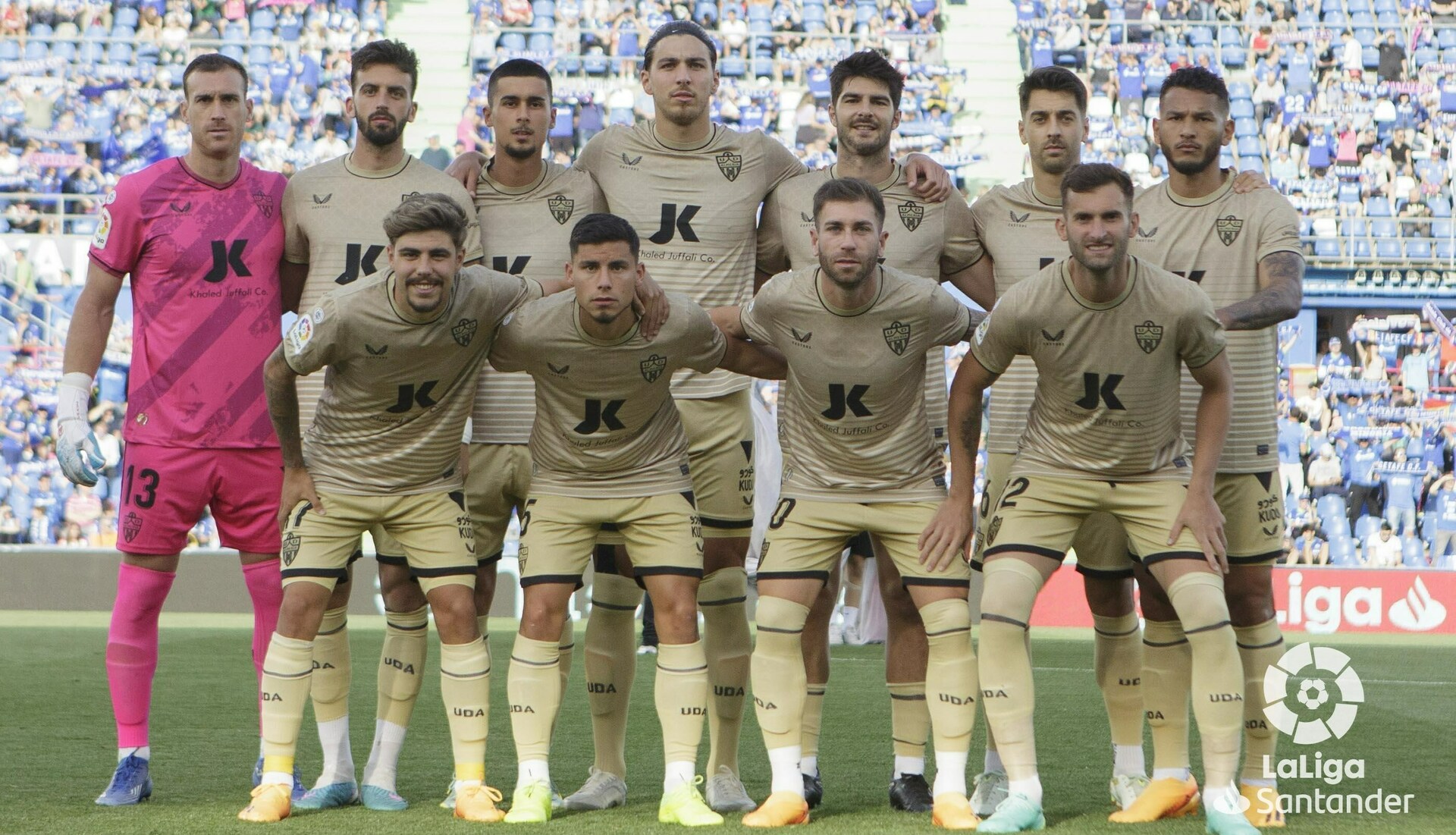 Once inicial del Almería en Getafe.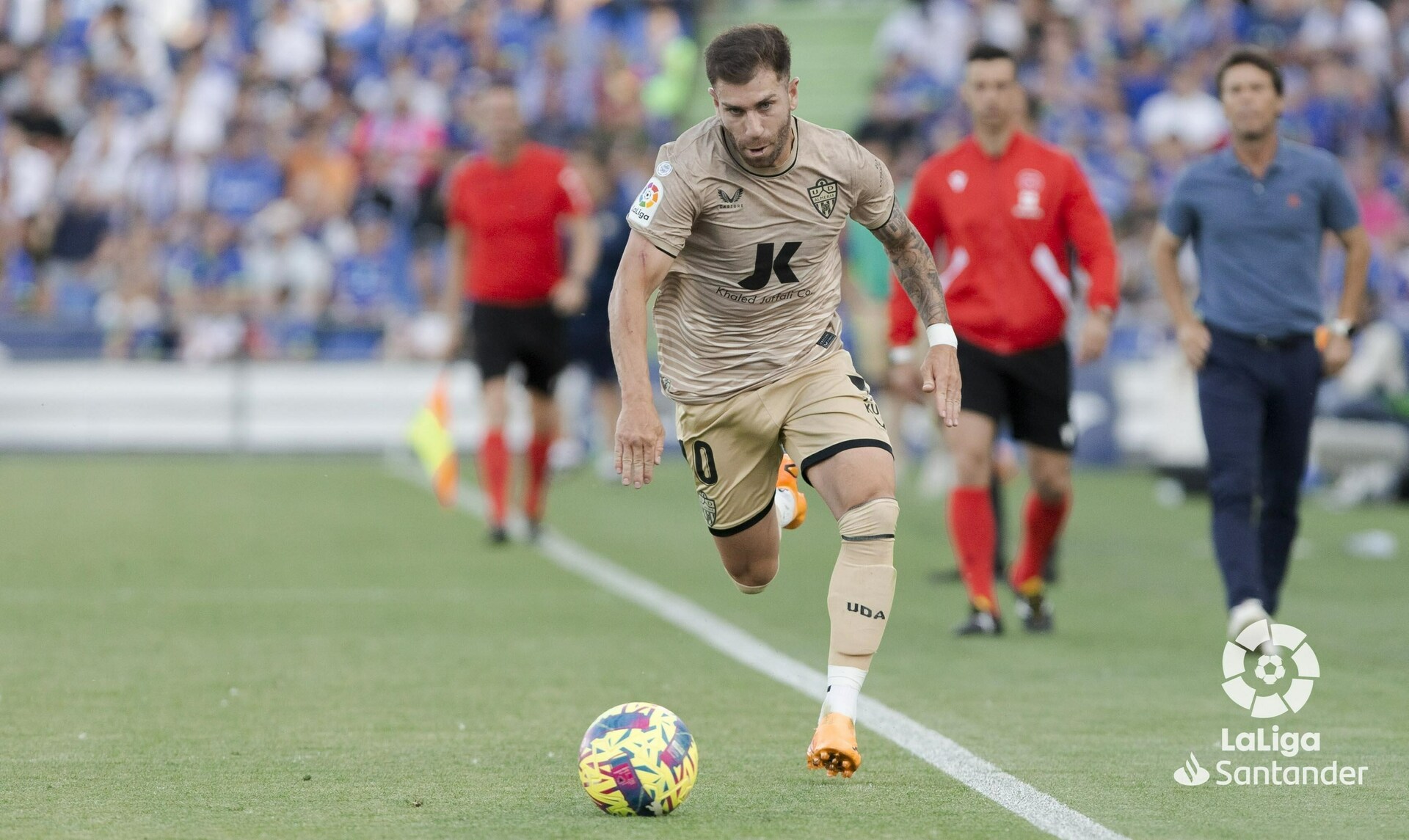 Embarba fue una de las novedades en el once de Rubi.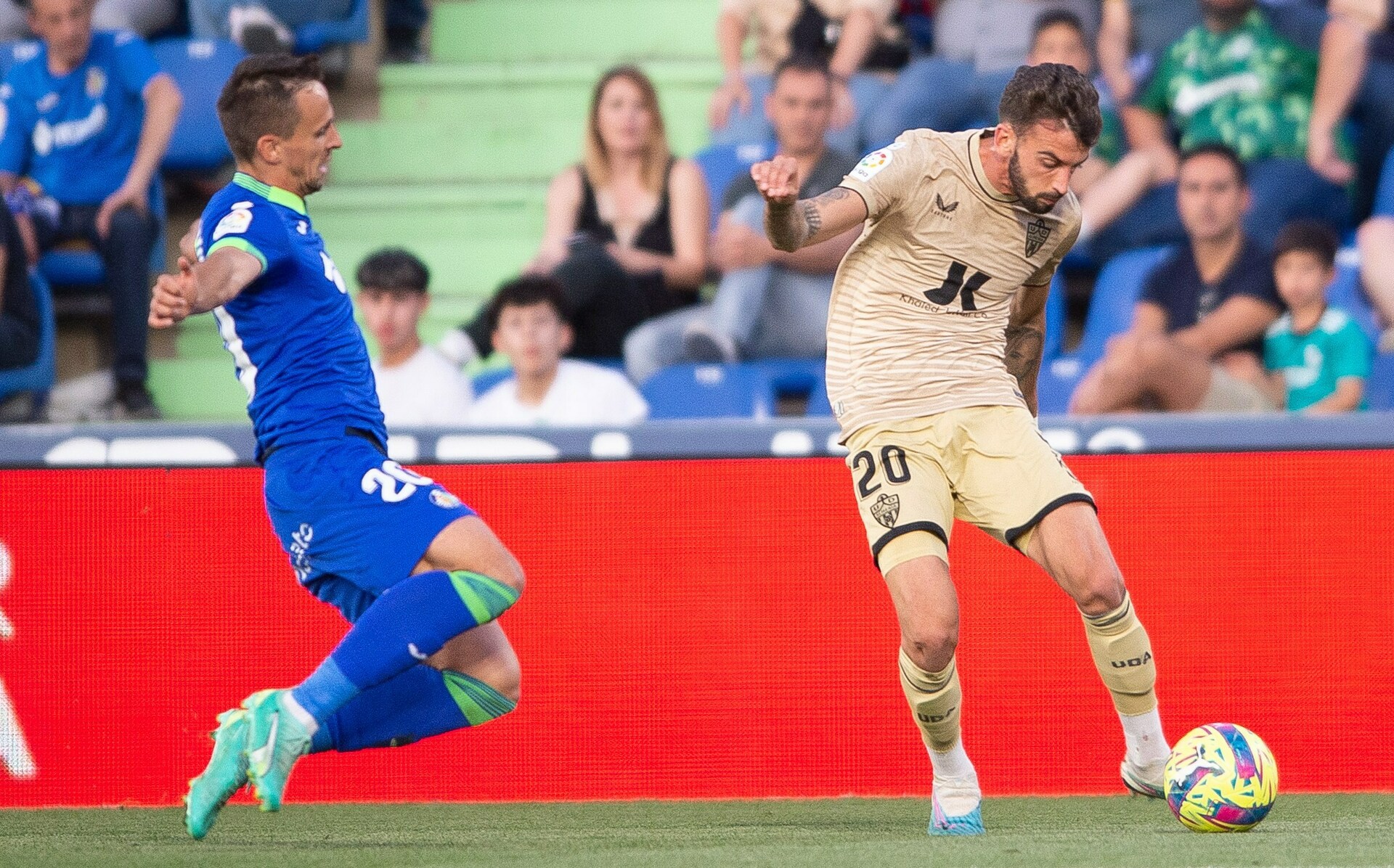 Alex Centelles hizo un partido muy completo y aportó mucho en ataque.
Luis Suárez fue el autor de los dos goles del Almería.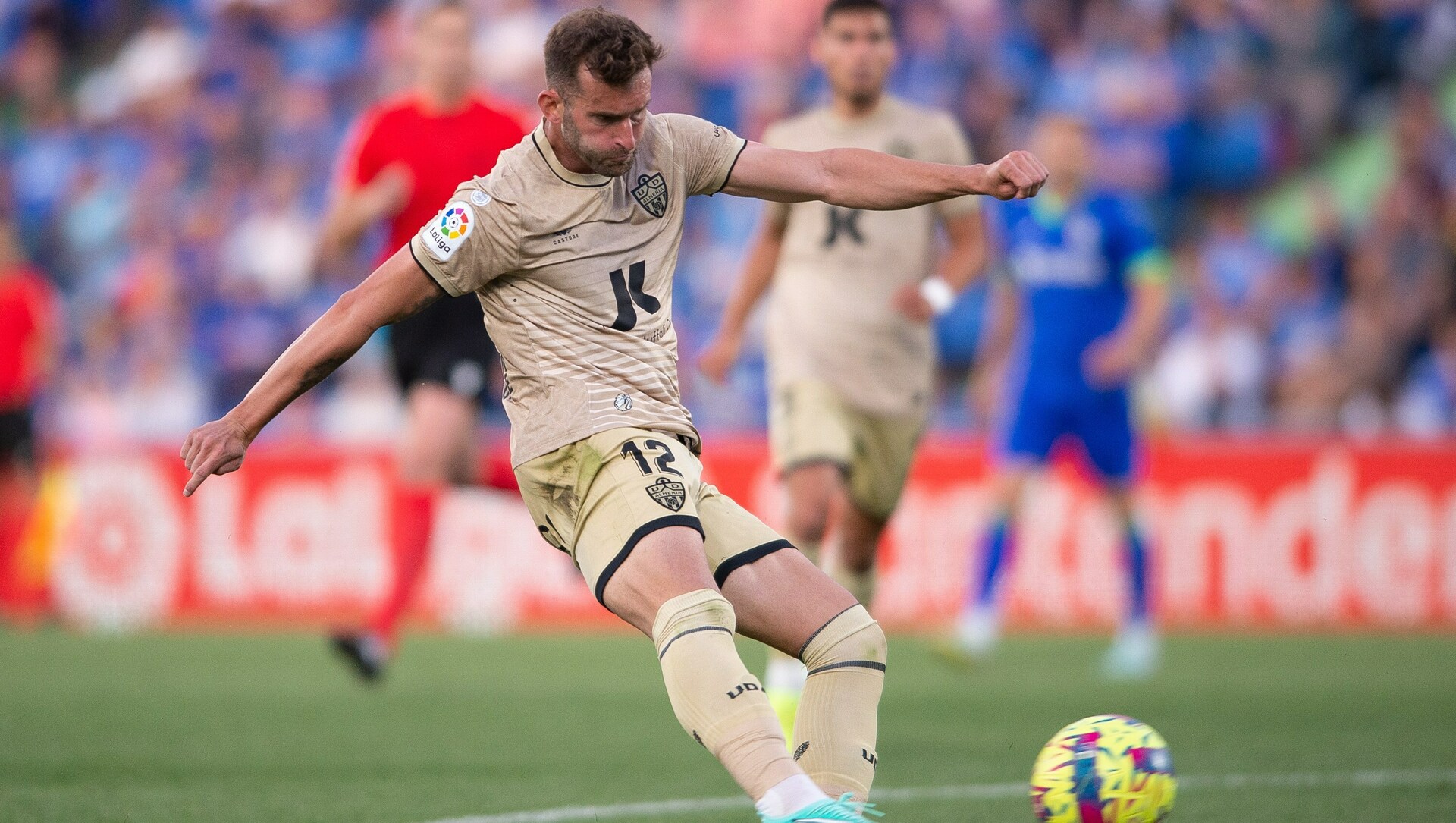 Leo Baptistao tuvo varias ocasiones de gol.
El Almería hizo un completo partido, aunque le faltó más efectividad para no sufrir al final.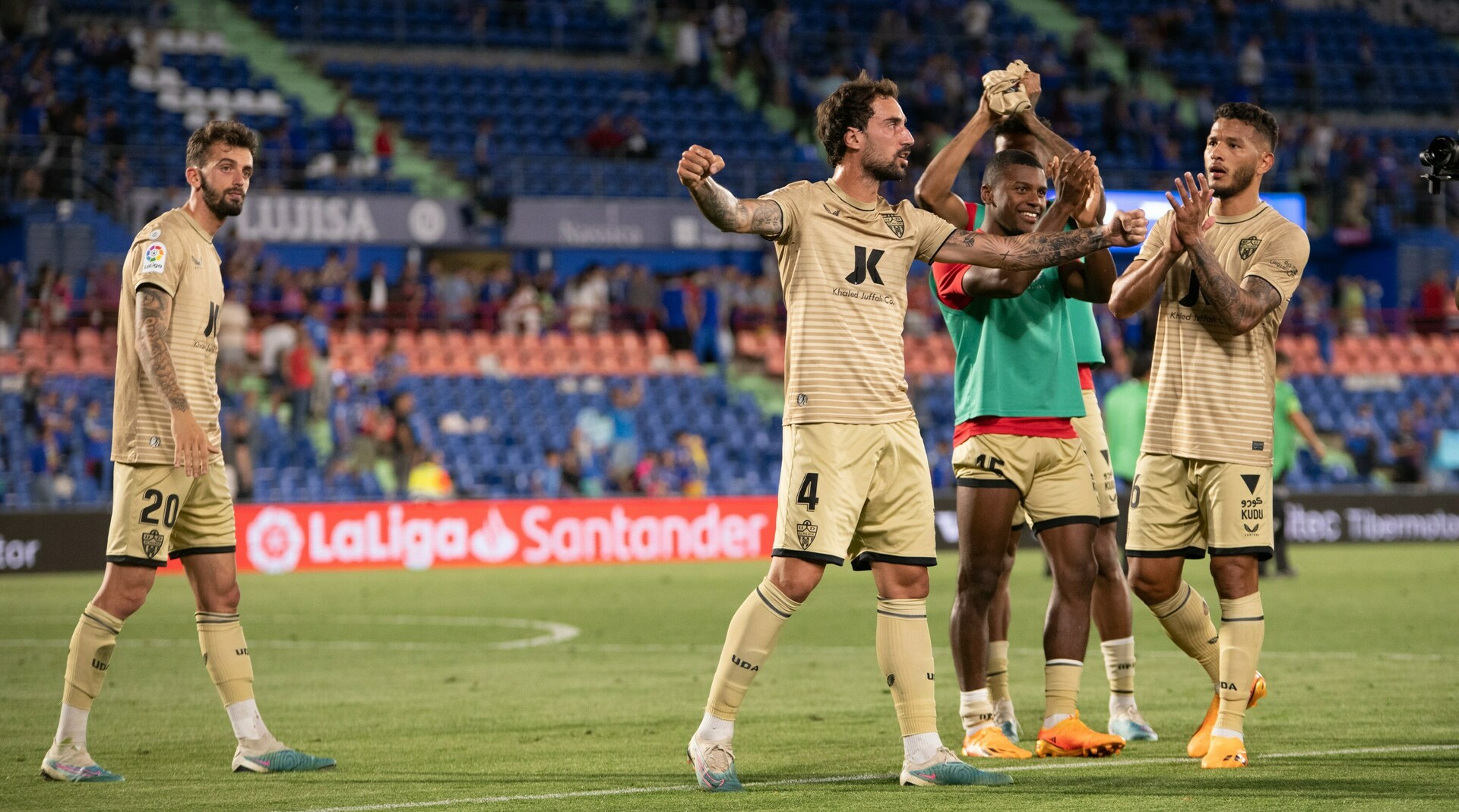 Los jugadores celebran la gran victoria lograda en Getafe.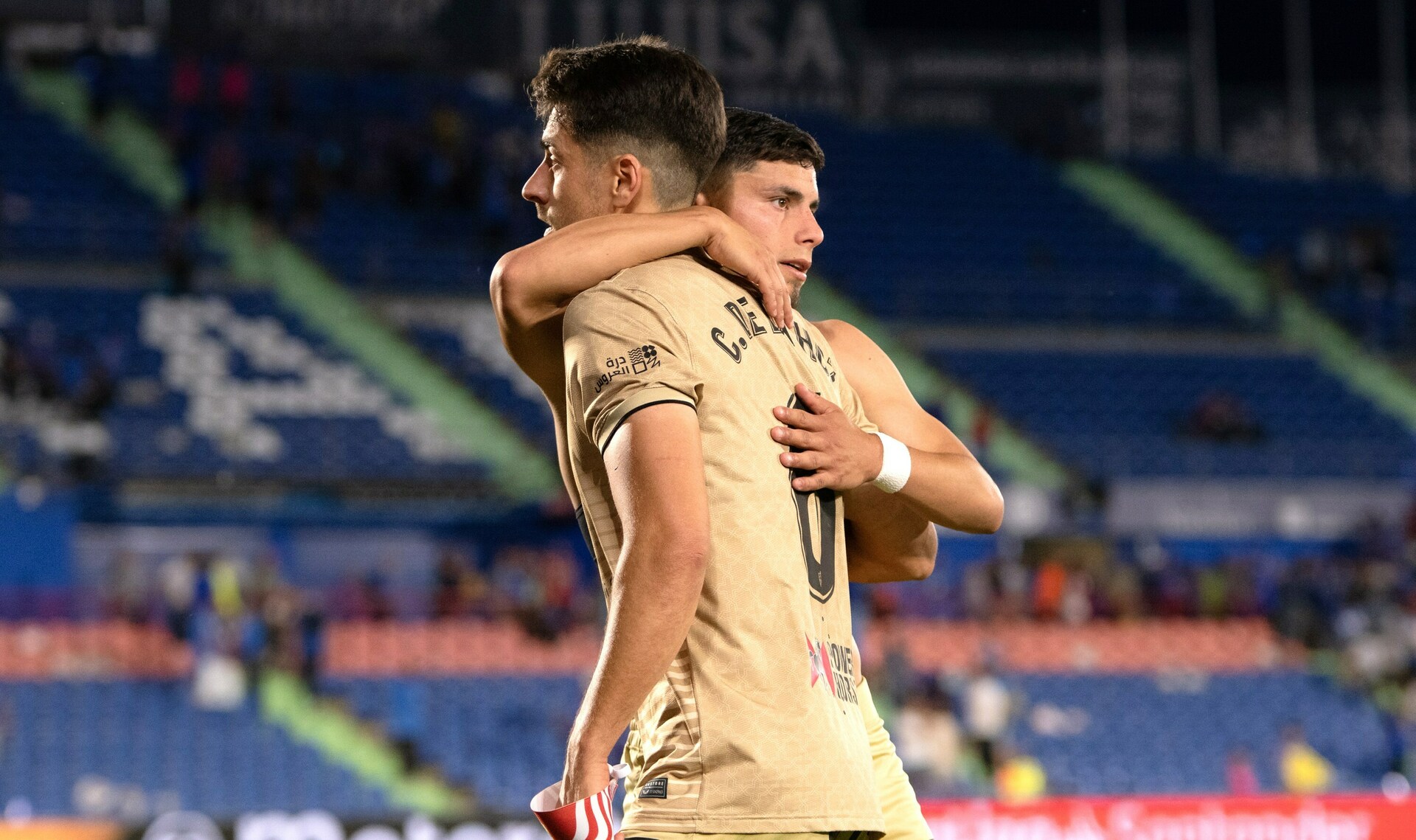 César de la Hoz y Robertone se abrazan al finalizar el partido.